Notice of Availability of the Final EIR/EA and FONSI for the I-105 ExpressLanes Project
The California Department of Transportation (Caltrans), in coordination with the Los Angeles County Metropolitan Transit Authority (Metro), has completed the Final Environmental Impact Report/Environmental Assessment (EIR/EA) for the I-105 ExpressLanes Project.
A Finding of No Significant Impact (FONSI) under the National Environmental Policy Act (NEPA) has been made for this project by Caltrans as assigned by the Federal Highway Administration pursuant to 23 USC 327. A Notice of Determination (NOD) will soon be filed with the State Clearinghouse pursuant to the California Environmental Quality Act (CEQA).
The Final EIR/EA, which includes responses to comments from agencies, organizations, and individuals on the Draft EIR/EA, can be viewed here or on the project website at metro.net/105expresslanes. Hard copies of the document will be available upon request via any of the communication methods listed below.
Thank you for your involvement and interest in this important transportation project.
Preferred Alternative
The Final EIR/EA identifies Alternative 3 as the Preferred Alternative. Alternative 3 would convert the existing High Occupancy Vehicle (HOV) lane, from I-405 to Studebaker Road, to two (2) ExpressLanes in each direction by utilizing non-standard lane and shoulder widths, as well as widening. The two ExpressLanes, 11 feet wide each, would be separated from the general-purpose lanes by a 2-foot buffer. The general-purpose lanes would be 11 feet wide for the two (2) inside lanes, and 12 feet wide for the outside lane, except at some segments west and east of the I-105/I-110 Interchange where three (3) standard 12-foot general-purpose lanes are feasible.

*Note: Auxiliary Lane is only in certain locations on I-105
This alternative would also include a new overhead tolling system and signage, dynamic pricing on the ExpressLanes, and other improvements to the Corridor including soundwalls and auxiliary lanes. The Preferred Alternative would require acquisition of additional right-of-way.
Next Steps
Metro and Caltrans are expected to proceed with the final design phase of the project, in advance of construction which is anticipated to kick-off in 2025-2027. Please continue checking the project website for updates.
Project Overview
The I-105 corridor experiences heavy demand during peak commute hours that exceeds its capacity. As a result, Metro and Caltrans prepared an EIR/EA to study the possible implementation of ExpressLanes along I-105 between I-405 and Studebaker Rd in Norwalk. The corridor traverses the cities of El Segundo, Inglewood, Hawthorne, Los Angeles, Lynwood, South Gate, Paramount, Downey, Norwalk and unincorporated areas of LA County.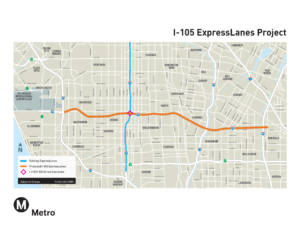 Stay Connected
213.922.6565