Clean mounting area inside windshield with rubbing alcohol and let dry

Remove plastic tape from the back of the Velcro mounting strips on the FasTrak Flex

Position FasTrak Flex as illustrated below based on your mirror type

Press FasTrak Flex firmly against glass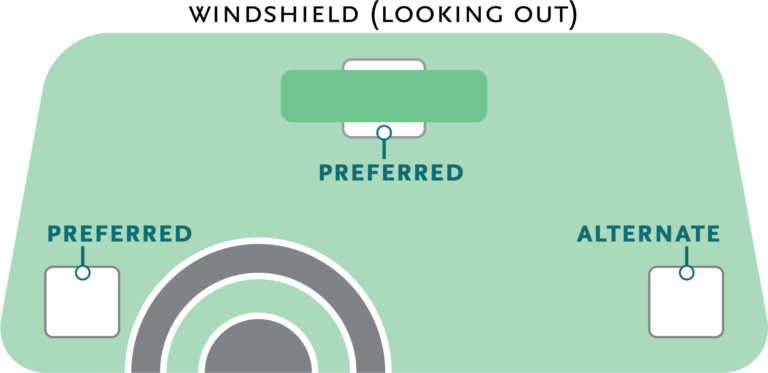 PREFERRED POSITIONS
Place the FasTrak Flex at least l½" from the top edge of the windshield in the center behind the mirror, or mount to the lower left of the windshield l ½" from the side of the windshield and l ½" from the bottom of the windshield.
ALTERNATE POSITION
If the preferred positions do not work, please mount to the lower right of the windshield, 1½" from the side of the windshield and 1½" from the bottom of the windshield.
Before driving your vehicle, please be sure your FasTrak Flex switch is set to the correct number of persons in your vehicle:

Do not adjust the FasTrak Flex switch while driving.
Please note that if not properly mounted, the FasTrak Flex may not work and may be unlawfully positioned per SEC.77, Section 26708 of the Vehicle Code.


If your vehicle has a metal oxide windshield, please consult the owner's manual or your dealership for the proper mounting location.



You can use your Metro ExpressLanes FasTrak Flex on any toll road in California that display the FasTrak logo. Please note that you are subject to each toll agency's operating procedures and toll rate policies. We encourage you to check with each toll facility for specific information prior to use.